Creation of User-defined Template | Templates | GEO5 | Online Help
Creation of User-defined Template
The program contains the pre-defined basic template sets for the creation of a geological documentation for all field tests (borehole, CPT, SPT...). Because of the large number of requirements for geological protocols (logs), it is also possible to create User-defined template sets.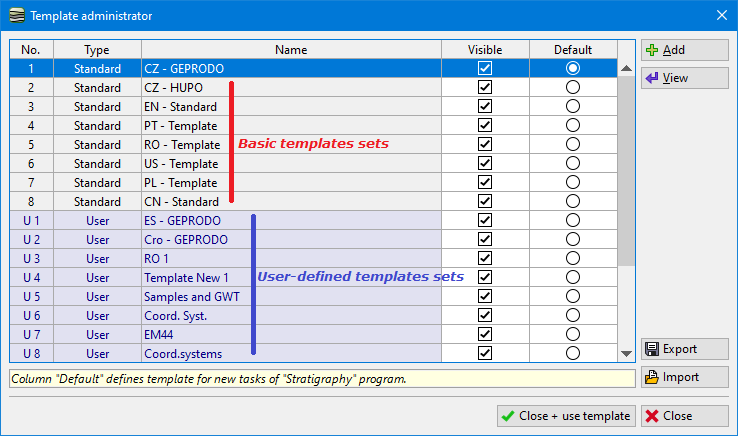 The best way to create a user-defined template is to start with a predefined template set and modify it according to the specific requirements. Using the ""Edit copy of current template set and add in into the administrator"" button, we define a user-defined template set in the "Templates" frame. All templates are displayed in the table and can be added/removed/edited.
If there is a field test in the task, which uses a template out of the current template set, this template can be added using the "Add" button in the bottom part of the window.

The dialog window for the creation/editof a new template contains 4 parts:
Part A - the name (and comment) of the new template is defined here (e.g. according to the country, name of company, standard...).
Part B - input data for the selected tab (field test) are defined here.
Part C - the form of output protocols is defined here for each type of field test. The editing is done in the spreadsheet, and it is similar to work e.g., in MS Excel.
Part D - mapping for export and import data

Dialog window "New template"
Templates are compatible with each other and preserve the specified data as much as possible. The content of any fields that are taken from the basic templates will remain unchanged when the individual templates are switched.
The creation of a user-defined Template is described in detail in the engineering manual No. 44 - Creation of User-defined Template.