Sheet Pile | Cross Sections Input | GEO5 | Online Help
Sheet Pile
The Sheet pile requires an input of:
Cross-section name (default name is generated by the program, it can be changed using "User def." checkbox)
Cross-section type - it is selected in the dialog window "Catalog of profiles" (button "Catalog")
The catalog of profiles contains a lot of classes of sheet piles and casings from different manufacturers (see below). If you use different types of products, please contact us (hotline@fine.cz), we will implement it into our catalog in the program.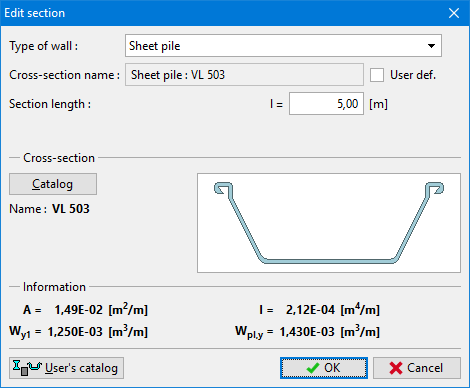 Parameters input - sheet pile
Literature:
Implemented sheet piles in our catalog
Steel sheet piles:
Vítkovice steel - Product catalog of sheet piles
Arcelor Mittal - Steel Sheet Piling, General Catalogue 2012
ThyssenKrupp Bautechnik - Sheet Piling Handbook
Chinese standard GB/T 20933-2014 Hot rolled sheet pile
Bethlehem Steel Sheet Piling
Gerdau Steel Sheet Piling
Steel sheet piles cold formed:
Mer Lion Metals - Cold Formed Steel Sheet Piles Catalogue
Trench sheeting:
ThyssenKrupp Bautechnik - Kaltgewalzte Spundwandprofile – Kanaldielen
Sheet piles O WOM/WOF:
Mer Lion Metals - Steel Sheet Piles Catalogue
PilePro Group Company - Sheet Pile Connectors