Input Data | Templates | GEO5 | Online Help
Input Data
Data, which we want to enter for each field test and later print in output protocols are defined in the dialog window "Modification of tests template".
We can add new "New data type" (using "Add" button) for current template. First, it is necessary to select a source of data - we can use:
Global data type - data types used in predefined templates as a part of "Stratigraphy" program
Existing user data type - data types used in user-defined templates
New user data type - it is possible to define own data type
It is always useful to use already defined data types. For example, if you define a new template and want to add a "Drill machine" data, it's always better to find a data in the global library - in this case, the "Drilling equipment". We can edit the description when creating a template - but the relevant data (here the name of drill machine) contained in other templates or imported from different already defined formats will be automatically loaded into this data type.

Selection of data type
It is possible to define data of different types:
string
multiline string
date, time
enumeration
number - it is possible to define units which are converted automatically when changing system of units
tables - general or specific with compulsory depth, thickness of layer or depth interface (from-to) input

These optional input data are entered while entering field tests in the "Field tests" frame. Global (default) data types cannot be edited, it is possible just remove them. If any type is missing, it is possible to add it from the predefined or user database. If the required type is not in the database, it is possible to create it. Newly created type is automatically saved into the user database.
For better clarity it is possible to sort data types into editing groups, which determines tabs in field tests entering. Editing groups can be arbitrary modified using "Editing groups" button.

Using of editing groups in "Field Tests" frame
It is also possible to define conditional input depending on previous enumeration. We can show it on easy example. We use a global data type "GWT type", what contains two items (GWT bored and GWT steady). Next, we want to enter description for steady GWT. For this reason we define new data type "GWT description" where we use a conditional input just for "GWT type = GWT steady".

Definition of master enumeration (GWT type)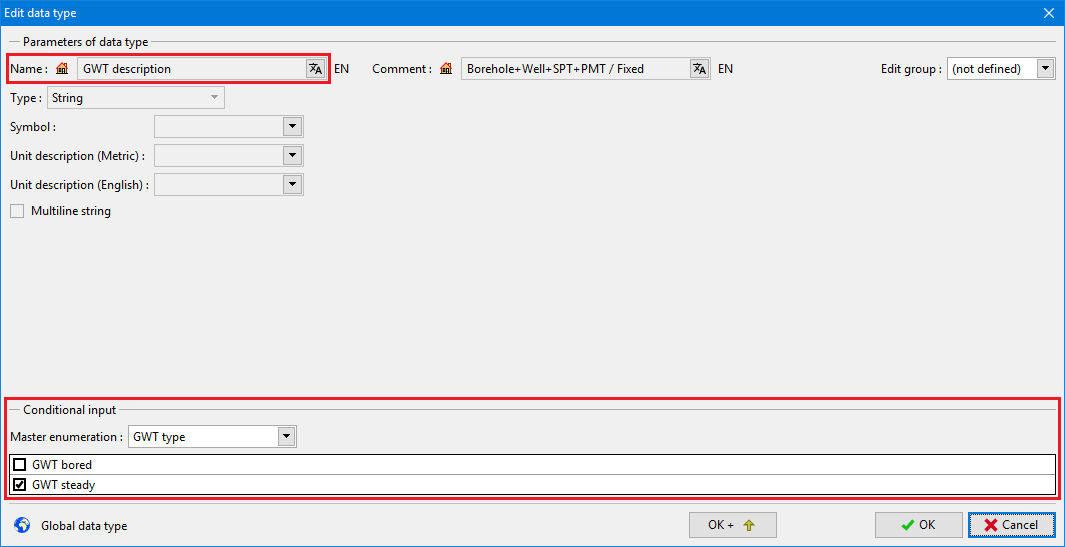 Set of conditional input (according to the GWT type)

Conditional input (according to the GWT type)