Redistribution of Earth Pressures | Pressure Determination | Online Help | GEO5
Redistribution of Earth Pressures
The program allows us to choose the most common shapes of redistributed pressure.

The choice of redistributed pressure shape
Practices in using redistributions are very different by country. The program contains both classical schemes of redistribution, then shapes according to the standards EAB, AASHTO.
The program is designed to be completely universal and the user can redistribute the pressure according to his habits.
For selections

,

the program calculates a position of maximal pressure automatically according to the location of anchors (props). This variant is the easiest for entering, and it is also recommended.
For selections

,

,

,

it is necessary to enter coefficients (x1 to x6), which determine the final shape of redistributed pressure.
The user can also specify, whether redistributed pressure acts to the null point (standard procedure), or to the ditch bottom (EAB).
The procedure of calculating the pressure on the structure is as follows:
the position of a null point is calculated (the magnitude of passive pressure in front of structure is the same as a magnitude of earth pressure behind the wall - the total sum of the pressure at this point is zero)
basic pressure behind the structure is calculated (active, at rest, increased active) to the depth of null point. The minimum dimensioning pressure can be considered.
redistributed pressure with the same area as the area of basic pressure is calculated. Only a basic pressure (calculated from the geological profile) is redistributed. The pressure from surcharge or water pressure are not redistributed.
the pressure from surcharge, water or earthquake is added to the redistributed pressure (total pressure)
All pressures are drawn on the desktop: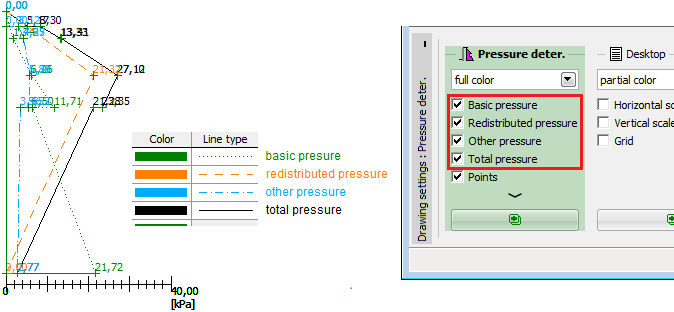 Graphical representation of pressures
Visualization of pressures can be activated in the frame "Drawing settings". Settings of colors and types of lines can be edited in the dialog window "Drawing Styles Administrator".
Literature:
EAB - 2012 Ernst & Sohn A Wiley Company, 5.Auflage, Empfehlungen des Arbeitskreises "Baugruben".
AASHTO LRFD Bridge Design Specifications, Seventh Edition, 2014.