Reinforcement End | Reinforcements | GEO5 | Online Help
Reinforcement End
The reinforcement mounting is assumed in the program either as fixed or free.
Should the slope with reinforcement fail the one of the following reinforcement failure shown in the following figures may appear.
If the reinforcement at its starting point in front of the slip surface is fixed (for example fixed into the structure cladding) the 3rd type of failure is prevented - pullout of the reinforcement in front of the slip surface. The failure type 1 and 2 is always checked in the analysis, type of failure 3 is checked only for reinforcements having free endpoints that allow for such a type of failure.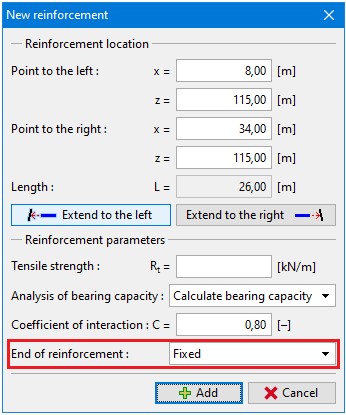 "New reinforcement" dialog window - input of end of the reinforcement

Breaking of reinforcement - type of failure 1

Pullout of the reinforcement behind the slip surface - type of failure 2

Pullout of the reinforcement in front of the slip surface - type of failure 3