Outputs | Tool and Control Bars | Online Help | GEO5
Outputs
A standalone toolbar serves to manage pictures and output documents.
The "Add picture" button opens the "New picture" dialog window. The next line in the bar provides the number of stored pictures in the given mode of data input. The "Total" line shows the total number of stored pictures for this file. The "Picture list" button opens the list of pictures.
"List of Annexes" button opens the list of annexes.
The two other buttons open the "Print and export document" and "Print and export desktop view" dialog windows.
The "Copy picture" button saves the current view from the desktop to the clipboard.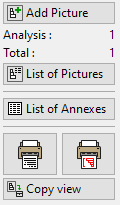 Control bar "Outputs"