Double-row Pile Wall | Sheeting Check | GEO5 | Online Help
Double-row Pile Wall
The program allows us to model the double-row pile wall in the "Geometry" frame.
The structure consists of three parts:
front row
back row
connecting beam
The cross-section is selected for each part separately. The connection of the front and back row with a connecting beam is considered as rigid and the wall forms a portal frame.
The influence of normal force is considered for dimensioning of cross-section.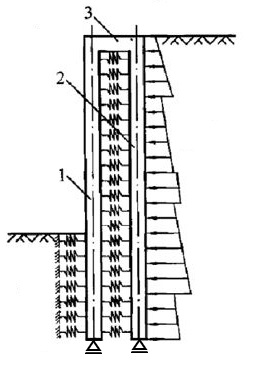 Calculation model - 1) front row, 2) back row, 3) connecting beam
The structure is loaded by three main loads:
earth pressure behind the back row
earth pressure in front of the front row
earth pressure between the front and back row
The earth pressure acting on the front and back row is calculated in the same way as in the case of a standard wall.
The pressure between the front and back row is determined according to:

| | | | |
| --- | --- | --- | --- |
| Where: | pc | - | resultant pressure |
| | kc | - | stiffness coefficient of soil between the front and back row |
| | Δv | - | difference of deformation of the front and back row |
| | pc,0 | - | initial earth pressure acting between the front and back row |
The soil stiffness coefficient is calculated as follows:

| | | | |
| --- | --- | --- | --- |
| Where: | Eoed | - | |
| | sy | - | distance between the front and back row |
| | d | - | diameter or height of the corss-section |
The initial earth pressure between the front and back row is determined by the following formula:


| | | | |
| --- | --- | --- | --- |
| Where: | α | - | calculation coefficient; if α > 1 then α = 1 |
| | pa | - | |
| | sy | - | distance between the front and back row |
| | d | - | diameter or height of the corss-section |
| | h | - | final excavation depth |
| | φm | - | average value of the angle of internal friction |