Reinforcements | Slope Stability | Online Help | GEO5
Reinforcements
Reinforcements are horizontal reinforcing elements, which are placed into the soil to increase the slope stability utilizing their tensile strength. If the reinforcement intersects the slip surface, the force developed in the reinforcement enters the force equation of equilibrium of a given block. On the contrary, the slope stability is not influenced.
The basic parameter of reinforcement is the tensile strength Rt. A design value of this parameter is used - i.e. the strength of reinforcement reduced by coefficients taking into account the effect of durability, creep, and installation damage. The force transmitted by reinforcement can never exceed the assigned tensile strength Rt.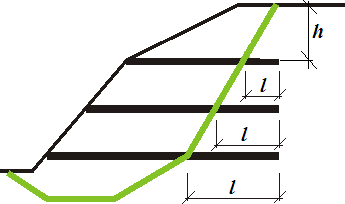 Scheme of accounting for reinforcement
The second characteristic is the pull-out strength Tp. This parameter determines the anchoring length, i.e. the required length of reinforcement in the soil, for which the reinforcement is fully stressed attaining the value Rt. Since the realistic values of the pull-out strength are difficult to determine, the program offers three options for their calculation, respectively for the calculation of the force F transmitted by the reinforcement.
1) Calculate reinforcement bearing capacity
The pull-out force F is given by:

| | | | |
| --- | --- | --- | --- |
| where: | σ | - | normal stress due to self-weight at the intersection of reinforcement and slip surface - see Fig. |
| | φ | - | angle of internal friction of the soil |
| | C | - | coefficient of interaction (0,8 by default) |
| | l | - | length of reinforcement step joint behind the slip surface into the soil body |
2) Input reinforcement anchor length lk
An anchoring length lk is specified. This parameter is determined by the shear strength developed between the reinforcement and the soil gradually increasing from zero to its limit value (measured from the end of reinforcement fixed in soil).

| | | | |
| --- | --- | --- | --- |
| where: | l | - | length of reinforcement behind the slip surface into the soil body |
| | lk | - | anchoring length of reinforcement |
| | Rt | - | tensile strength |
3) Input reinforcement pull-out resistance Tp
The pull-out force F is given by:

| | | | |
| --- | --- | --- | --- |
| where: | l | - | length of reinforcement behind the slip surface into the soil body |
| | Tp | - | pull-out resistance of reinforcement |
Forces in reinforcements determined on the basis of reinforcement strength may attain relatively large values. Introducing these forces in the analysis yields a higher factor of safety of a given slip surface. In the case of rigorous methods (Spencer, Janbu, Morgenstern-Price) the introduction of such forces in the reinforcements may cause the loss of convergence. This appears mainly in cases when these forces are so high that it is not possible to achieve equilibrium of forces acting on blocks while maintaining the principal assumptions of individual methods, e.g. the assumption of zero moment at the end of the slip surface. In such a case the forces in reinforcements are reduced as least as possible (to the highest acceptable values) so the method converges and attains acceptable results. The reduced values of forces are then written out as part of the stability analysis results. However, in case of no reduction, these forces are not included in the final set of results.